Welcome at kennel Tibone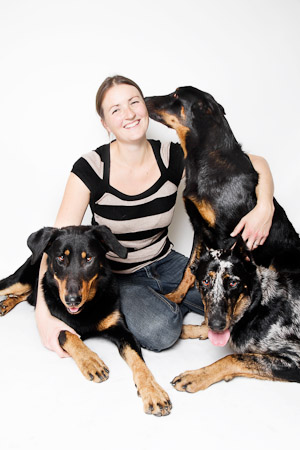 My breeding :
Dogs are a passion for me. Since 2009 I have decided to devote completely to my kennel and I left my job in agriculture. Every day I take my dogs for a long walk, when a bitch gives birth, I'm always with her whatever the time of day or night. When I have a litter, I spend lot of time with the puppies, they have a lot of stimulations and socialisation.
My studies in biology and agronomy gave me a good background in genetic and nutrition that I use in my breeding. In order to deepen my knowledge, I follow several seminars every year (about feeding, conformation, behavior, reproduction and breeding, etc). I also study at the Cynodo school which is a complete formation in breeding, behavior, education and rehabilitation of dogs.
The well being of my dogs is very important for me, every dog has adequate nutrition, an exercise program and veterinary care. My bitches don't have a litter before the age of 2 years and are retired at about 6 years old. They do not have more than one litter per year.
My aim is to produce beautiful beaucerons with great temperament and with very good health. My dogs comes from champion bloodlines in conformation and work. All my reproducers have OFA certifications for hips, elbow and heart. They participate in dog show and working trials (herding, agility, obedience) with very good results.
My puppies are raised in the house, they are socialized with young children and other animals. I spend a lot of time with my puppies and I know them very well, so that I can help you do find the best companion or working dog for you.
Enjoy your visit on my website,
Valérie Théobald